Recruiting dealers
Recruitment of Global Color Sorter Machine Distributors

Global Market $100 Billion, Invite You To Join Us!
(Enterprises dealing in rice, beans, grains, tea, nuts, plastics and minerals are welcome to join us.)


Wesort Color Sorter Global Distributor Recruitment

With the rapid development of the global agricultural machinery industry, in order to let people all over the world eat healthy food, Wesort is now recruiting color sorter distributors all over the world to expand the market. We sincerely invite you to join us and win-win cooperation!


Advantages of working with us

1、We are High-tech Enterprises in China,support of the Chinese government to sell color sorters globally.

2、We are members of the Robotics Association and can get the latest AI intelligent system to cooperate with us.

3、The doctoral team develops and designs products, and has independent intellectual property rights to ensure continuous product updates.

4、Global Internet connection, support remote maintenance, system updates at any time.


Become Wesort distributor, you will get:

1、Wesort Color Sorter provide authorization to distribute and develop markets independently in the prescribed areas.

2、Wesort Color Sorter assist in providing part of the intended customer information and launching favorable marketing activities to help marketing promotion.

3、Wesort color sorter provides professional technical support and the best pre-sales and after-sales service for your customers

4、You will get the corresponding dealer discount and get the reward according to the performance appraisal.

5、Choosing Wesort Color Sorter ,you will get high-quality sorting machines, reasonable profit space, excellent service, fast delivery, stable supply, long-term cooperation!


Being a Wesort Color Sorter dealer's basic conditions|:

1、You have to familiar with the specific conditions of agriculture and industry in your area and own stable customer resources

2、You have to have a great sales team, a passion for developing the market, and focus on cooperation.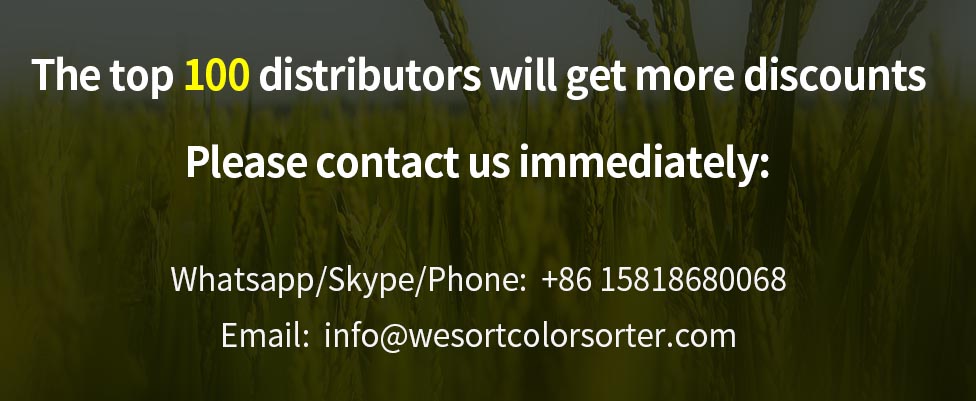 Please feel free to give your inquiry in the form below.
We will reply you in 24 hours.